La CD Cine Dubbing offre servizi di doppiaggio e post produzione audio da oltre 20 anni. Il nostro team artistico, tecnico e dirigenziale è in grado di garantire prodotti di alta qualità.
La passione e la professionalità che la Cine Dubbing mette in questo campo l' hanno resa rinomata e stimata in tutta Italia.
La CD Cine Dubbing cura l' Edizione Italiana di film, serie tv, live actions, serie animate, documentari e qualsiasi altra forma di intrattenimento. Il nostro database vanta più di mille tra attori e attrici in grado di ricoprire qualsiasi timbro vocale, oltre a un vasto numero di bambini tra gli 8 e i 14 anni. Controlliamo direttamente tutti gli aspetti del doppiaggio, dalla traduzione al casting, dalla direzione e registrazione al mix e alla post produzione. I nostri clienti possono usufruire di studi aggiornati con gli ultimi sistemi di tecnologia, tra cui due sale mix DOLBY ATMOS. Abbiamo tecnici qualificati che garantiscono la consegna di prodotti di alta definizione grazie all'utilizzo del Pro Tools e di postazioni AVID e Final Cut. Siamo in grado di lavorare qualsiasi tipo di formato (Beta SP/IMX/HD, VHS, DVD e file .mxf) in PAL, possiamo trascodificare da NTSC a PAL.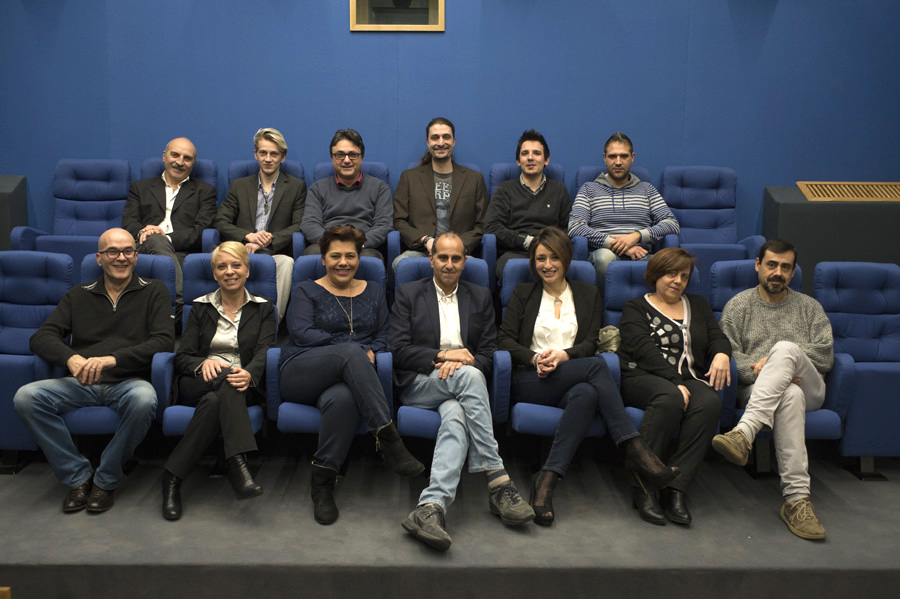 CD Cine Dubbing has been providing dubbing and audio post production service for more than 20 years. Our skilled artistic, technical and managing team is able to guarantee high quality products.
The passion and competence that Cine Dubbing always brings to this field made it renowned and esteemed in all of Italy.
Cine Dubbing offers a dubbing service for animation series, theatrical features, tv movies, live action series, doc, factuals and any other form of entertainment. Our actors' database includes over a thousand professional actors and actresses for any kind of voice.We directly control every single aspect of the dubbing process from translation to casting, from direction and recording to mixing and post production. Our clients benefit from our advanced and fully equipped recording studios, which are kept up to date with the state of the art technology which also includes two DOLBY ATMOS mixing rooms. We have qualified engineers who guarantee the delivery of high quality products thanks to the use of Pro Tools, Final Cut and AVID stations. We manage all the most known media formats (file .MXF, file .DNX, Beta SP/IMX/HD, VHS DVD….) in PAL mode or transcoding them from NTSC mode to PAL mode.
CD Cine Dubbing lleva 20 anos produciendo servicios de audio y de post-producciòn. Nuestro equipo artistico, tecnico y gestional està preparado para garantizar productos de alta calidad.
Cine Dubbing ofrece un servicio de doblaje para seriales de dibujos animados, peliculas de cine o de tv, seriales, reality, documentales, factuals y qualquier otra forma de entretenimientos. Tenemos un database de actores y actrices con màs de mil profesionales que cubren todos tipos de voces. Controlamos directamente todos los aspectos del proceso de doblaje, desde la traducciòn al casting, de la direcciòn y engrabaciòn al mixing y a la post-producciò. Nuestros clientes pueden contar con nuestros talleres profesionales equipados con una tecnologia de ùltima generaciòn como el DOLBY ATMOS Nuestro engenieros son altamente calificados y dan garantias de entregar productos de alta calitad, gracias al uso de Pro Tools, Final Cut y AVID. Podemos manejar qualquier formato de media entre los màs conocidos (Beta SP / IMX / HD, VHS, DVD, archivos .mxf y .DNX), en PAL o trascodifiandolos del formato NTSC al PAL.
CD Cine Dubbing fournit une offre intégrale de services de doublage et de postproduction depuis plus de 20 ans. Notre équipe qualifiée artistique, technique et de gestion est en mesure de garantir des produits de haute qualité.
La passion et la compétence que Cine Dubbing apporte toujours dans ce domaine, sont notre carte de visite dans l'Italie toute entière.
La CD Cinedubbing offre un service de doublage de séries d'animation télevisées, longs métrages, téléfilms, séries télévisées, télé-réalité, factual tv et toute autre forme de télévision de divertissement. Notre base de données comprend plus d'un millier d'acteurs et actrices professionnels couvrant tout type de voix. Nous suivons directement tous les aspects du processus de doublage, à partir de la traduction jusqu'au casting des voix: direction, mixage et postproduction. Nos clients bénéficient de nos studios d'enregistrement avancés et entièrement équipés, qui sont tenus au courant de l'état de la technologie de pointe comment le DOLBY ATMOS. Nous avons des ingénieurs qualifiés qui garantissent la livraison de produits de haute qualité, grâce à l'utilisation de Pro Tools, Final Cut et stations AVID. Nous pouvons gérer tous les formats multimédia les plus connus (Beta SP / IMX / HD, vidéo DVD, fichier. Mxf, .DNX) en mode PAL ou le transcodage à partir du mode NTSC vers le mode PAL.
Jess Watson
Director of Marketing Services
Otis Bull
Director of Digital Marketing
Harvey Beltran
Brand Manager
Omer Mays
Digital Content Manager
Omer Mays
Digital Content Manager
Coby Bevan
Social Media Manager
Julius Avalos
PPC Manager